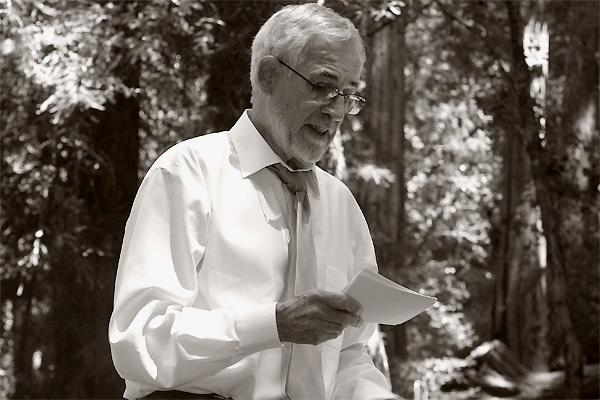 Good afternoon.

I want to thank Talia Janice Byrne Haber for inviting Roberta and me to this ceremony. We knew we were on Talia's short list and were deeply greatful to have made it to the finals. Talia we want to be invited to your wedding. Just call me and you know the code words "Grandpa I'm ready." Talia's two middle names, Janice Byrne, are in honor of my sister Janice Byrne, whom I admire very much. Janice worked as a telephone operator for 45 years and never missed a day of work. Janice is a great role model for Talia, she considers it an honor to have her name embedded within Talia's. My sister could not be here but our family including Talia will visit her when we go to Shediac New Brunswick in several weeks.

As the Father of the Bride - my heart is filled with pleasure, being able to make this speech. I want to begin by saying what a true pleasure it is to welcome, on this extraordinary day, Carol Avery Haber, Eben's mother. It is unfortunate that Ed Haber an extraordinary husband and father is no longer with us to attend this wonderful event.

I'd like to take this opportunity to thank my wife Roberta, not just for being a tolerant wife but more importantly, an outstanding mother and a guiding influence in the upbringing of Sheri and our 2nd daughter Lisa who is with us today with her boyfriend Dave Marshall.

We say welcome to the many the friends and family members that have been important to Sheri and Eben..

Some you have traveled 100's and 1000's of miles to rejoice with Eben and Sheri on their wedding day. For this reason, on behalf of Sheri and Eben, and Eben's mother, Carol We, thank you for sharing this special day with us. Your very presence shows us that you are indeed true friends.

Carol' sister Barbara Avery is also here along with their daughter Hillary Harrow and her husband Declan Kiley.

Carol has 2 other sons with us today, from New York, Graham Haber, his wife Anastasia Aukeman and their 3 children, Zola, Lucas and Miles Haber.

Carol's son Justin Haber and his girlfriend Dr. Elisabeth Fine are also here from Boston

Also with us today are Eben's father's sister, Dr. Ruth Jonas and her husband Dr. Saran Haber.

Eben's good friend and Best Man, Andrew Spencer and his wife Anja are also here from Boston

Eben and Sheri were great friends of Dennis and Peggy Fowler's daughter Celeste, Celeste was Eben's Dive and Photographer Buddy, and a wonderful, brilliant and talented young lady. Roberta and I met Celeste when she visited Eben and Sheri some many months ago, just before she entered college in Boston. Tragically, Celeste passed away late last year. Celeste's parents Dennis and Peggy Fowler are with us today. Dennis and Peggy It is difficult for us to imagine the enormous loss you suffered in losing Celeste. We are honored by your presence and thank you for joining us in this occasion. How fitting it was for Celeste's father Dennis, to perform the wedding ceremony. Celeste would be proud of the beautiful job her father did in officiating the ceremony.

Additionally, I want to thank the beautiful flower girl, Talia and the people at the reception for putting together a magnificent wedding reception.

A special welcome to several of Sheri School mates who have kept in touch over the years.

Roberta and I feel so fortunate that the eldest of or two beautiful daughters has found her match.

Now keep in mind that marriage is not just about finding the perfect partner but also about being a perfect partner.

Sheri has been successful in her life and career and I'm confident that as she moves forward in life with Eben, she will be even more successful, as will he. Like a Harry Potter Wizard, I command that the "Marriage be greater than the sum of its parts".

This occasion reminds me of words written about marriage:



If you love something, set it free
If it comes back, it was, and always will be yours
And if it never returns, it was never yours to begin with
And if all it does is just sit in the house, make a mess, spend all
the money, eat all the food, use the telephone until all hours of the
night, take control over the television...then you either married it
gave birth to it, then it must be a teenager.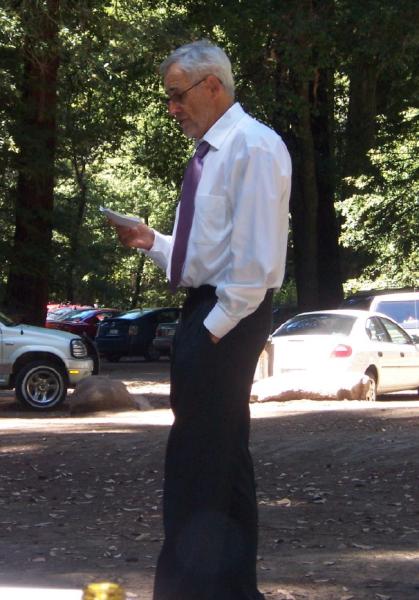 Eben is very special to us. From the minute we met Eben, we knew that Sheri had indeed met "someone" extraordinary . In the past few years that we've had the pleasure of knowing him, we have been able to see his strong character, warm heart, and his uncanny ability to make Sheri very happy. What's there not to like about Eben. Hell!! I liked Eben the minute I saw hisice cream maker and we have shared many delightful spoonfulls since. As we got to know Eben, Roberta and marevel at Eben's and Talia's incredible relationship, Talia and Sheri are lucky ladies. Also I know that Melissa and Patty tan, Sheri's other 2 daughters have enormous respect and love for Eben and he has opened his heart and has been instrumental in their progress over the last few years. I like to think of Eben as a High Tech Renaissance Mountain man. High tech at IBM by day, and Mountain man during his off hours time. How could you not love a man who used to take his horse everywhere he went? It takes a lot of Hutzpah to buy 27 acres on the San Andreas Falt, in a place I call the "Lost Canyon" and embark on a journey to make this land into a unique habitat. The Big Red Barn which all of you visited yesterday is just the beginning of this journey. And now he has a partner, Sheri, our daughter, to assist him in that journey

To Eben, the advice is to "Never go to bed in the middle of an argument, Stay up and fight all night long, but be diplomatic and magnanimous when you let Sheri have her own way.

Eben remember the words from Oscar Wilde, "Women are meant to be loved — not understood"

Eben has been a part of the family for some time now but Eben we would like to officially welcome you into our family formally — today and forever. For Carol and all the Habers we take this time to welcome you to our family as well. You are very special people. The Village of Haber has raised a very fine son.

Sheri and Eben you will find that marriage brings many things. For instance, you two will experience self-restraint, loyalty, obedience, fair play, and many other wonderful virtues that aren't necessary when you are single.

We are very proud of our beautiful daughter Sheri. She has grown into a wonderful woman, and Sheri you look stunning. Now, she is married to Eben, a likeable. easy going, good man. During the time we've know him, we have come to realize just how much he means to Sheri.

I can recall when Sheri was 3 months old and I would feed her from the Gerber Bay Jar. She would continually rotate the Jar so the Little Gerber Baby picture always faced her. I now realize that little gerber baby was Eben as a little boy.

I believe Sheri was 11 years old when her mother told her. "Sheri keep behaving that way and you will get ulcers." Sheri responded, "I don't plan to get ulcers, I'll just give them." Eben!!!!!!

Sheri and her school buddies learned to use sign language so they could communicate During school classes.

When Sheri was 13 she had both feet in a cast and used a wheel chair Sheri and Donna her school chum, would raise money at School Fund Raisers. Subsequently, the Doctor said Sheri no longer needed the wheel chair. Sheri and her friend lobbied to keep the wheelchair because they observed that they sold many more peanuts when she used it at the Fundraisers. An Entrepreneur is born!!!!

Sheri is a caring, sharing responsible lady with a great sense of community values.

We observed that Eben shares these same values and maybe therein lies the attraction. Although when asked what attracted them to each other, Sheri says it was her cooking Eben retorted that it was her knowledge of Star Trek.

Sheri has enormous talents. I vividly recall before the use of Computers she would type the entire High School Newspaper original; on photosensitive typographic paper. This paper was expensive and the school budget was not very large and she would type the complete Newspaper without making a mistake. Roberta and I were simply amazed to learn about this fact.

On the other side of the coin Sheri has lost in the last 5 years, at last count, 345 cell phone of different flavors.

It was Sheri's analytical ability that we truly believed saved her life. When she was 17, while at Berkeley, Sheri to our chagrin, purchased a motorbike. Two incidences come to mind: The 1st one was when she got a ticket for speeding, I believe for 40 MPH in a 30MPH zone. She went to court and presented evidence to the judge that by design the Scooter's maximum possible speed limit was 35 mph, and the judge agreed and dismissed the case. The 2nd more serious life altering incident, was when we got a call saying that Sheri and Motorbike had been rear ended by a station wagon and she had been knocked unconscious. Sheri was wearing a helmet and after considerable time she recovered and we later learned that when she bought the Motorbike she went to the library and researched for the safest helmet and purchased it. We were very thankful for her consideration and thorough analytical research and realized further what an amazing girl she was.

Cell Phone rings. Hello!! Yes I will accept the charges for an International call from Greece. Sheri?? Well I am pleased your having a terrific time. Where are you stayng?
Your staying at a Greek Hotel called Copperopoulous. What is your room number. You don't have a room number;;; cause it's not exactly a room. It only cosst $2 for you and your Travel companions to sleep on the roof of the Hotel. Sheri promise me you won't tell your mother, she will freak out. Have a good time.

While I recall when Sheri was 19 working as a service Engineer for Valid Logic who designed Semiconductor software. She was at a local meeting with some, of their foreign visiting employees. There was break in the meeting and the foreign employees huddled in the corner and were conversing in their language. The meeting resumed and Addressing the foreign employees, in their own language, Sheri gave them a lecture because of what they had just said. These employess were stunned and her local colleagues were not aware she could speak the language of the employees language and if I recall the local employees at this meeting were never aware of the details of this issue.

.Many years ago Sheri decided to move to Calgary, Canada and after working for Anderson Consulting, co-founded a Unix Software training company. The cold winters finally took their toll and she moved her back to the US and worked full time while going to law school.

Sheri was employed by a major San Francisco Law and prcticed Internet Intellectual property law. Ask sheri about her Jews for Jesus case? Fascinating.

Sheri then got back into the high tech world and made her mark in the area of Software quality control. Sheri's management ability and unique hands on software skills allowed her to become a Vice president of a large Software Company. Some employees look up at the glass ceiling, Sheri; has acquired the ability to tap dance on Glass while looking down.

As a result of Sheri's relationship with Patty Tans ENT Doctor, Sheri recently changed direction and now works for his non profit division of the California Ear Institute. In this position Sheri heads up the advocacy position for deaf children in need of very expensive, but essential life altering ear surgery and Cochlear Implants for children, which most insurance companies refuse to pay. Sheri assists the children's parents in filing cases and represents them and applies her considerable legal skills in judicial hearings to obtain justice and equity for these children.
At my last count she has never lost a case, some of which appear to be precedent setting. I applaud her for her great work, she is happy at what she is doing and she intends to more vigorously apply her amazing legal skills to further this endeavor.

Today, Sheri, your mother and I are so very proud of you. You have accomplished so much in your short life and married the nicest man, someone perfect for you. You and Eben are to be congratulated for you mutual perception in finding each other. We love you both immensely.

Marriage is hard work. It requires commitment, organization, honesty, and compromise but if you always put each other's feelings and considerations before your own, the choices will be right. Remember, make each day a day full of positive memories.

One day, some of the flashing lights, warm fuzzies, and skyrockets may stop but as long as you have each other's friendship, you will enjoy one of life's greatest institutions.

Pleas join us in offering the newly married Mr. and Mrs Haber a special toast.

We wish you both all the happiness and joy in the world. We also wish you adventure, excitement, and success, wishing you every good thing.

Sheri and Eben, love hard, play hard, laugh hard, and work hard as a team. You have something very special — enjoy and rejoice in it.

May you life be wonderful and filled with opportunities and right decisions. We love you both very much!

Here's to the past, for all that you've learned

Here's to the present, for all that you share

Here's to the future, for all that you look forward to — together

Ladies and gentlemen, a toast to Mrs. and Mrs. Eben Haber.