A Trip to California's Channel Islands - 8/98
All images are links to bigger versions - click to see the details.
The channel islands provide wonderful diving with warm water (compared to Monterey) huge schools of fish, kelp, lobster, and excellent visibility. My friend Jason lent me his Ikelite Aquashot-3 with which I shot the following pictures.
Here are some photos of fish in the kelp:
Here are some pictures of Galibaldi (with a juvenile well hidden in the middle shot), a fish we don't get much of in Northern California:
A lobster is hiding in the upper right, and the flash wasn't working...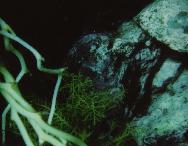 Me, and a sheepshead (you can figure out which is which):
More pictures, taken by another diver. Only for those with a high-speed link.