I've been interested in the culture and people of Nepal for some time now and was finally able to take a trip there this October. I travelled with a friend of a friend named Ida. Our mutual friend introduced us after learning we were both thinking of going to Nepal around the same time. We were both interested in going trekking and had similar ideas about what type of trek and what we wanted to see so we agreed to travel together. We decided on a trek in the Khumbu region (also called the Everest region since Mt. Everest is the primary attraction there). Most trekkers in this area head straight to Everest Base Camp and Kala Pattar (a nearby peak with supposedly fantastic views of Everest). We wanted to avoid whatever crowds we could, so we chose a route up a neighboring valley to a village called Gokyo. We would then climb Gokyo Ri (another peak with supposedly fantastic views of a lot more than Everest) then cross over Cho La pass to get to the Everest side and then hike out.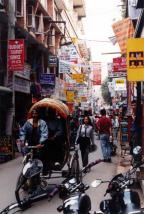 We started in Kathmandu. What a chaotic, crazy city! It reminded me a lot of Jakarta, or if you've ever been to Bangkok I've heard it is also very similar. The roads are filled with beater cars spewing exhaust and blasting their horns weaving around rickshaws and bicycles. People everywhere. In Thamel, the tourist area where we were staying, the tiny streets are lined with lodges, restaurants, souvenir shops, trekking agencies, "mountaineering" shops and internet cafes. As you wander down the street you are constantly being hounded by beggars and hawkers ("for the thousandth time I do NOT need a minature chess set!") and being honked at by the rickshaws and cars that are weaving their way through the crowds. It can be overwhelming or exhilerating depending on your state of mind.
After spending a couple of days sightseeing and arranging our trek and we went back to the airport for our flight into the mountains. We had arranged a guide through our hotel and he was supposed to fly out ahead of us and make all the arrangements ahead of time. There were some delays at the airport (an unfortunate encounter between a vulture and a prop plane shut the place down for a while) so he got stuck, but amazingly we were able to get out.
We were flying to a small village called Lukla (elevation 9350 ft.), about a 30 minute flight northeast of Kathmandu. It is the starting point for many of the expeditions and treks going into the Khumbu region. The airport is famous for its miniature runway: on one end is a sheer cliff and the other end is a rock face. In between is a wide sloped dirt road about 100 yards or so long. When you land you think you are going to smash into the wall, when you take off you are thinking that the plane will never make it in time and it will just drop off the edge and get added to a heap of planes that you assume is already at the bottom of that cliff. As we landed the pilot slammed on the brakes and everyone held their breath as we sped towards the rock face. Right when we thought we were doomed he turned the plane and we careened onto a small loading area at the side nearly taking out all the villagers lined up along the edges of the runway. As we rolled to a stop all the passengers cheered and applauded.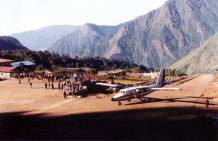 The first thing we noticed about Lukla was that there were no cars. None. After the chaos of Kathmandu it was kind of eerie not seeing (or hearing) any motors at all. Lukla was the first of many villages carved out of a hillside with no road access. In the mountains the people walk everywhere. We wouldn't see another motorized vehicle until we returned to Kathmandu 3 weeks later.
We stayed the night in Lukla and the next morning joined the rest of the town out by the airport to watch the planes come in (they only land in the morning). We watched plane after plane land and spit out expeditions and trekking groups. Most of them immediately started walking but some went to lodges. Our guide finally showed up and after arranging a porter we finally hit the trail. Our trek had begun!
Our plan was to take two days to reach Namche Bazaar and spend about 2 or 3 days there acclimating to the altitude. Then continue up until we got to Gokyo, spend a few more days there acclimating and exploring, cross the Cho La pass and then head back down to Namche, then Lukla and home The first day we only walked for about 4 or 5 hours. We were following a river (Dudh Kosi) up a valley, mostly walking along hillsides but occasionally we would drop down and cross the river on these crazy suspension bridges. We passed through several little villages and stopped for the night in Phakding (8661 ft). The next day was longer and harder - about 8 hours with one of the steepest climbs of the trip. We gained almost 3000ft of elevation that day, arriving in Namche (11,319ft) in the late afternoon.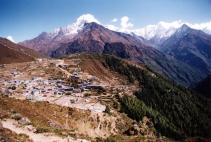 Namche is a relatively large village that is the stopping point for almost all treks and expeditions in and out of the Khumbu Region. It is a long time trading center for the region as well, hosting a saturday market where villagers come to trade their wares for supplies. It is a bustling village filled with Nepalis, Tibetans, Buddhist Monks and tons of trekkers. We stayed there for two nights and took day trips to see some of the surrounding villages. I got my first glimpse of Mt. Everest when I went up to the Army camp at sunrise.
Most trekkers and climbers spend a couple of days in Namche in order to start acclimating to the higher altitude. The primary danger of going into an area like this is altitude sickness (Acute Mountain Sickness, or AMS). Your body needs time to adjust to the lack of oxygen at higher altitudes, and if you ascend to quickly you will probably get very sick. It is deadly if you continue to ascend with symptoms. We were seeing helicopter rescues almost daily. The key to acclimating is ascending slowly and drinking TONS of water. I probably drank about 4-5 liters of water a day and hiked excrutiatingly slow (to the distress of our guide) and generally felt pretty good. There were a couple of days when I had a headache with some nausea but thankfully it never got worse than that.
After leaving Namche we spent about 5 days working our way up towards Gokyo. Trekkers either camp or stay in the little lodges that have sprung up all over the trekking routes. We chose to stay in lodges. They cost anywhere from $2 to $8 a night for a private room. The rooms are small and empty except for a couple of wooden planks with thick foam pads on them. The "bathroom" is usually a hole in the ground outside nearby. Running water is rare, and showers usually consist of a big bowl of hot water. In one village we were shocked and amazed to find not only hot running water but flush toilets! It is amazing how small things that we normally take for granted become such a treasure.
The second night out of Namche we stayed in a tiny little armpit of a village called Phortse Tenga (pronounced "portsay" tenga, 12,057 ft.). The only lodges were two rundown dorm-style lodges (dorm-style meaning everyone would sleep in the same room). We picked the lesser of the two evils and sat down out front with a pot of hot lemon (a mainstay up there, it is basically hot lemonade and is awesome for getting warmed up and for keeping hydrated) and our journals to get caught up. After a few hours the place had filled up and we were all outwardly groaning at the less than optimal conditions and internally groaning at how crowded it was. Clearly we would get no sleep that night.
In general, each night when we got to a lodge we would tend to get settled in our room and then go out to the "common" area to have some tea (or hot lemon!) and find out who else is there. (That is also usually where the wood stove is so it is the only warm room in the place). The conversations always tend to go something like this:
Where are you from? (compare notes on each others' countries)
Where are you going? (compare notes on intended trekking routes)
Where have you been? (compare notes on previous trekking trips)
And then the conversation either dies off and you go back to writing in your journal, or, if you've found someone really interesting, you end up getting to know them a little bit better and talking most of the evening.
At Phortse Tenga almost everyone there was really interesting and we got into some great conversations and ended up getting along really well as a group. After that night (we did get some sleep after all) we were with the same group of people at lodges every night until Gokyo. We didn't all trek together during the day (although we'd continually leapfrog eachother on the trail) but we all made a point to gather at night and hang out. It was really cool to hear all of their stories and have a group of people like that to share the experience with.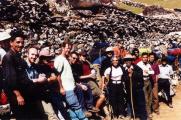 A couple of nights after Phortse Tenga we were in a village called Dole (13,254 ft) and Ida and I were staying at a different lodge than the others. Their lodge got overrun by a german trekking group so they came up to our lodge after dinner to hang out. It was the birthday of one of the Australians, Ronnie, so we gave him a dessert thing, used our maglights as candles and sang him happy birthday. Our guide (Bishnu) found a nepali drum (long with skins on either end) and started drumming and singing nepali folk songs. Someone convinced Ronnie to get up and dance and Bishnu was trying to teach him to dance the nepali way (not sure if it is a traditional dance or just the way they dance, but it was interesting nonetheless). Then someone else suggested we get everyone to dance one by one, each person choosing the next person to dance. It was comical. Each person would balk but then get up and cut loose with their own special dance. Rory, the Irishman, did a bizarre version of River Dance. One of the New Zealanders did some sort of twitching robot thing (his girlfriend leaned over to me and said "I've never seen him do that before!") We were crying from laughing so hard. By the end we were all up and dancing. It truly was a memorable evening. And we didn't have a sip of alcohol!
Two days later we arrived in Gokyo (15,584 ft.). Higher than I'd ever been! So far I'd been handling the altitude really well and felt strong, but while in Gokyo I managed to eat something funky and got intestinally sick (is that tactful enough?), which left me weak so I also ended up with a nasty head cold. At that altitude almost everyone is sick somehow. Mostly with coughs, stuffy noses, and colds. Your body can't heal itself very well so once you get sick you are stuck with it until you descend. My cough lasted until I left Kathmandu. I still have a little bit of a stuffy nose (I've been back a month now).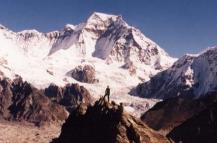 Despite all that I managed to climb Gokyo Ri, a large peak behind Gokyo that tops out at 17,519 ft. I woke up at 3:30 am and started climbing in the dark. The trick is to get up there before the clouds move in, sometimes as early as 8 or 9 am. It took me a little over 3 hours to get to the top and it was spectacular! We were blessed with clear skies until about 10:30 or 11 am so I stayed up there the entire time just watching the mountains and taking photos. One of our group (Aaron from Colorado) had come up after me so we took a bunch of pictures of each other and hung out together up there. We had a 360 degree view of the surrounding mountains, including Everest, Lhotse, Cho Oyu and Makalu - four of the six highest peaks in the world. There aren't enough superlatives to describe it.
From Gokyo we travelled back down the valley a little bit and then crossed over the Cho La pass (17,782 ft.). Although the elevation was about the same as Gokyo Ri the crossing was much much harder. The climb up to the pass was incredibly steep over piles of boulders and scree. It was probably the hardest hike I've ever done (the altitude and being sick contributed greatly to the difficulty). The pass itself is covered by a glacier which we had read all sorts of warnings about ("danger!" "icefall!" "crevasses!"). That ended up being the easiest part, we just followed the path across the snow. Also, because it is a pass you dont have much of a view of distant mountains, just the ones you're crossing through, but coming off the glacier we came over a rise and got smacked in the face with the Himalaya. wow. It seemed much closer than from Gokyo Ri and was equally spectactular, if not more so.
Two days later we were back in Namche. Coming down from Cho La we were on the trail that people take to get up to Everest Base Camp so for the most part it was VERY crowded with trekkers and porters. At that point we were pretty tired (and really needing a shower) so we high-tailed it back to Namche.
We had a couple of extra days so after a laundry/shower/rest day we decided to head east of Namche to Thame (12,467 ft.) for what we thought would be a short relaxing side trip. It turned out to be quite eventful!
First of all the owner of our lodge at Thame turned out to be the record holder for climbing Everest. He is a sherpa that has been up Everest 11 (yes, eleven) times. cripes. We would have loved to talk to him but he was pretty busy arranging a helicopter rescue for a climber that had come down off a nearby mountain with pulmonary edema (an accumulation of fluid in the lungs as a result of altitude, a potentially deadly condition). I have never in my life heard a cough that was as bone-chilling as this one. It was frightening. He was walking under his own power and seemed to feel a bit better after some food and tea, so I think he was okay, but I still sent some mental blessings with him as the helicopter flew away.
The other excitement at this lodge was a guy from the Slovenian Expedition who had just summitted Everest. One of their team had skied from the summit all the way down to base camp, becoming the first person to do it. The guy at our lodge had a laptop with movies from the skiers "helmet-cam". The movies were great (you can see them at http://www.everest.simobil.si) and it was really cool to hear him talk about the experience (but we didn't talk to him much either, he seemed to be arranging another expedition with the lodge owner). It was a crazy night.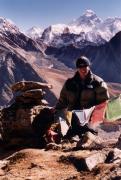 After that it was back to Namche, then a one day haul back to Lukla and then back on an airplane to Kathmandu. A couple of days of sightseeing and shopping and we were back on a plane bound for home.
There are so many other stories and experiences it would be impossible to tell them all here. Overall I loved it and would go back in a second. I was disappointed that I didn't get the exposure to the Nepali culture that I'd hoped. I got great exposure to the trekking culture but that definitely overshadowed the local culture in almost all the villages we went through. We did see evidence of Buddhism everywhere, lots of stupas, chortens and mani walls, but I felt like I was just an observer and didn't understand enough about it to really absorb it like I wanted to. Next time I'll do more homework and perhaps go in a different season, or go to an area that is more remote. Either way I'm definitely going back!